Meet Gerda
Hi, everybody. It's Gerda. Yes, I'm a dog, I can't talk, I can't print (it is she (Olya) who does this for me). All I can do is to bark, lick my master's face (ha-ha), sleep all day long, solicit her to give me extra helping and dream about entering the wardrobe, the thing she doesn't allow me to do.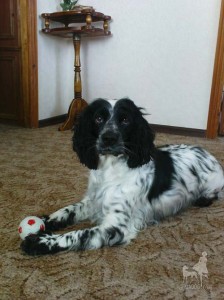 Yep, such a difficult life I have. Poor am I.
But in general I have everything what a dog of my status may need (again except wardrobe). And what is my status? My status is a pet. Don't know what it is but when walking and meeting some dog-guys they say that it is cool to be a pet. Maybe. It is cool to be cool, isn't it?
Or what will you recommend?
OK, here I have to share with you my biography so as you have some impression who or what I am, coz it is very dangerous to deal with strangers. Haven't your mummy taught you that?
So, you won't believe but I'm 7 years old. As you people say it is about 45 years if comparing with your age scheme. So now I am always thinking about why is she my master?  She is only 25, I'm 45. Where is logic?
OK, I have lost the line of my biography one more time.
I'm 7y old, I'm Russian Spaniel dog breed of a pleasant look (but to tell the truth I'm gorgeous), I live in a flat with Olya whom I adore (but don't tell her that) and like to eat very much, especially something crispy. Oh, and one more – I like to fetch toys.
Toys are everything for me and wood sticks as well.
That's all for the moment, folks. Read more about me and other dog relating information in Olya's post.
See you.
Yours sincerely,
Gerda